Have you noticed your skin not looking so radiant?
Lost its glow and just seems dry from winter?
You're not the only one!
The biggest conversation in my facial room right now is rehydrating and moisturizing from this windy winter we are having. Moisturizing is key, but here are a few other tips to get your skin in shape for spring!
---
Water! –  I know, I know, you hear that a ton, but it's true! The heat has been on in our homes and offices for months now and our skin has taken a beating. Did you know that some of those fine lines can be instantly refreshed and smoothed just by rehydrating with water?
Try changing up your water routine by adding fruit and or fresh herbs. My favorite is watermelon or strawberry mint.
Exfoliation!– A common misconception about exfoliation is how often to do so. It depends on your skin type and choice of exfoliant, but a good rule of thumb is two to three times a week.
Some exfoliants are a manual exfoliation, like our Bioelements® Measured Micrograins. A nice perk of this product is that is doubles as a mask to balance out oil and calm the skin.
Others can be a chemical exfoliation, like Skin Editor from Bioelements®. It's a leave on exfoliating creme with glycolic and lactic acids to target texture, dullness, discoloration, lines and more! Since it's based in shea butter, it will not strip the skin of moisture, but instead, enhance!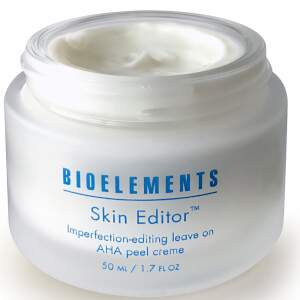 Exfoliation is so important, especially as we age since our skins natural desquamation (exfoliating) process slows down. You need to exfoliate!
Face Masks!– As our skin changes and as we age we must constantly step up our skin care routine. Adding a facial mask to your routine will not only help with hydrating and moisturizing,  but a number of other things based on your skincare needs.
For example, Collagen Rehab is our fastest selling mask. It is phenomenal, loaded with amino acids that help support collagen and elastin. Skin is left dewey and firm.
Bioelements® products can be custom blended with additives for your at home care to meet all of your skins needs. Worried about pigmentation or redness? We can mix in our special blend of extracts to make sure we meet those needs too!
As always, you are welcome to schedule a free consultation with myself, or any of our other wonderful estheticians, to talk about your skin! Better yet, schedule a facial to get your skin glowing again and erase the harsh winter damage.
Take care of your skin, your going to have it a long time!
---
Marcela Ridgely
Lvl 3 Esthetician